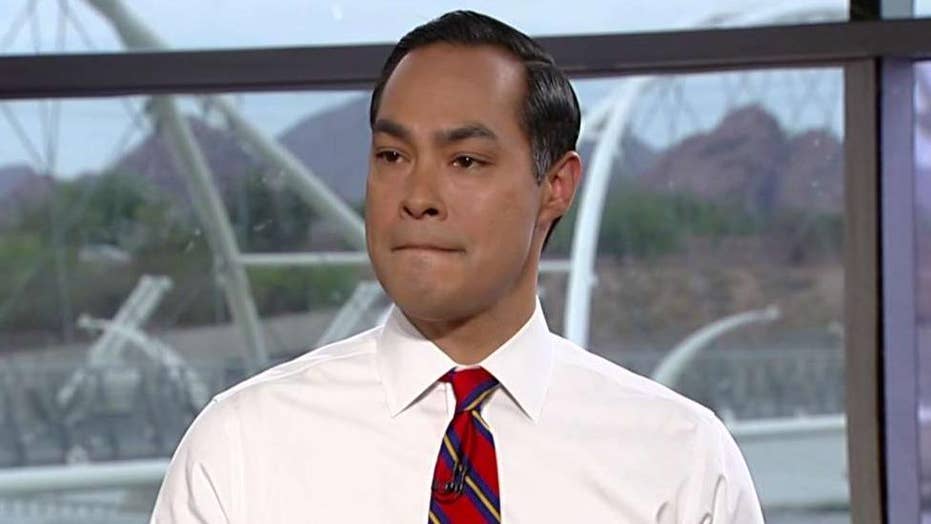 Counselor to the President Kellyanne Conway violated the Hatch Act, a watchdog found Thursday. (AP Photo/Manuel Balce Ceneta, File)
Castro was responding to a question from Katie Couric in an interview that focused on HUD policy before pivoting to the then-upcoming 2016 presidential race.
"Now, taking off my HUD hat for a second and just speaking individually, it is very clear that Hillary Clinton is the most experienced, thoughtful, and prepared candidate for President that we have this year," Castro told Couric.
The Obama White House took no action, and OSC did not recommend Castro's termination. Castro, pressed by Baier, argued that his case was different from Conway's, primarily because his violation was an isolated episode that he tried to learn from.
"Instead of saying, 'Look, I'm going to take these efforts to make sure that doesn't happen again,'" Castro said, "she said, 'To hell with that, I'm going to keep doing it. They said she had repeatedly done that. That's the difference."
Castro added that Conway's apparent lack of remorse was disqualifying: "I don't think we're gonna find anybody either in this race, or in our homes or in our community, that's never made mistakes. The true test of a leader is, what do you do when you make that mistake? Are you big enough to own up to it and then make sure you correct what you do in the future, or do you do, basically, what she did, and say, 'No, I'm bigger than that?'
"No, she did the wrong thing," Castro concluded. "And I support the Office of Special Counsel's determination that because she repeatedly violated it, even though she was told it was a violation, she should be removed from office."
Baier and MacCallum also pushed for Castro to explain his condemnation of Trump's recent statement that he would accept foreign political opposition research if offered. In 2017, Brian Fallon, a former Clinton campaign spokesperson, told The Washington Post that foreign-generated opposition research was a normal part of the political process.
"I think it's safe to say we have never seen that moment in American history, and I don't think that's a good thing," Castro said, referring to Trump's comments. "I don't understand why, on this network and in many conservative circles, people are still talking about Hillary Clinton."
Toward the end of the town hall, even as he expressed his opposition to the Hyde Amendment that bans federal funding for abortion, Castro pointedly refused to condemn Biden's recent flip-flop on the issue.
"We're not on the debate stage," Castro, considered a potential vice presidential pick, responded. "The fact is, I need to introduce myself to a lot of people who don't know who I am yet."
Immigration also featured prominently early in the town hall, with Castro saying the issue was "personal" to him — and that Obama, his former boss, had demonstrated real "compassion on the issue."
"I think the crisis that exists is driven by conditions in countries like Honduras, El Salvador and Guatemala," Castro said. "I believe we have a crisis of leadership."
Fox News' Bret Baier and Martha MacCallum contributed to this report.
Original Article : HERE ; The Ultimate Survival Food: The Lost Ways